Does Kremlin's Aggression Against Ukraine Put Europe in Danger?
 By Paweł Markiewicz, PAC Communications Fellow
Without provocation, and contrary to THE LAW OF THE SEA, on 25 November 2018, Russian border patrol ships intruded into Ukraine's territorial waters in the Sea of Azov and opened fire on three Ukrainian naval vessels.  This manifest breach of international law took place in the Kerch Strait.  These three Ukrainian ships with all 24 naval officers aboard were then illegally seized by the Kremlin and still have not been released.
This has added another dangerous dimension to the Kremlin's war in Ukraine. In contrast to the past, this incident was one of open and unmasked aggression; the most serious since the annexation of Crimea in 2014.  Moreover, this time the Kremlin did not even bother to deny Russian sailors perpetrated this crime.  Readers recall that the Kremlin denied that its troops were involved in the invasions of:  Georgia, Crimea, and Donbas.  Clearly, like Hitler before them, the Kremlin's leaders are becoming more brazen.
The implications of this incident go well beyond a Kremlin show of force. Mariupol is a significant port city for eastern Ukraine, processing some 18.8 million tons of cargo per year, while the Azov Sea and Kerch Strait serve as gateways between it and the Black Sea. Following the illegal annexation of Crimea, the strait and the Mariupol port served as a connection route with western Ukrainian ports, like Odessa.  According to a bi-lateral agreement of 2003, Ukraine and Russia both have free access to the Sea of Azov.   The Kremlin's blockade of the Kerch Strait unilaterally nullifies the 2003 agreement, and ends Ukrainian shipping activity in the Sea of Azov for the first time in post-Soviet history.  This economically cripples southeastern Ukraine.
Andrzej Wilk of Warsaw's Center for Eastern Studies is of the opinion that Ukrainian naval presence in the Azov Sea served as a means of projecting sovereign control over the region and underscored Ukraine's opposition to both the annexation of Crimea and the Kremlin's obstruction of shipping through the strait to Mariupol. It is evident from the Kremlin's response that the incident was designed to solve by force of arms any further attempts by Ukraine to increase its naval presence in the Azov basin. At the very least, the Kremlin hoped this brutish act would cause Ukrainian ships to turn back and give up sailing to Mariupol.  At most, the Kremlin sought to provoke an armed response from the Ukrainian side by which it legitimately could claim to take over control of the sea. In addition, the response was a Kremlin test of defending its illegal claims to Crimea.
According to the US mission to the Organization for Security and Cooperation in Europe, the Kremlin's unprovoked aggression violates international laws by impeding the transit of Ukrainian ships through the Kerch Strait. Contrary to Kremlin claims of a violation of its sea borders, the incident took place in Ukrainian territorial waters and violated the UN Convention on the Law of the Sea.
In reaction to Kremlin's aggression, the Ukrainian government instituted a state of martial law in 10 eastern regions for 30 days starting November 28. Formally, it allows for the restriction of civil rights, but is unlikely to be rigidly enforced. President Petro Poroshenko announced that restrictions will depend on the situation at hand and on further acts of Kremlin aggression. However, this measure will undoubtedly be used by the Kremlin as an example to undermine the legality of the electoral process in Ukraine by claiming that Poroshenko strengthened his powers for the upcoming election campaign by limiting freedom of speech and assembly.
The Polish Foreign Ministry released an immediate press briefing condemning the Kremlin's aggressive actions by urging them to respect international law. Furthermore, restraint was urged for both sides as escalations "may pose a threat to the stability of European security." During his recent trip to Kyiv, Foreign Minister Jacek Czaputowicz reiterated this position, adding that the European Union strongly condemned the aggression. United States Ambassador to Poland, Georgette Mosbacher, reiterated Poland's important regional role in maintaining stability and countering future attempts of Kremlin aggression. A strong Poland, she cited, also means a strong United States.
According to Edward Lucas, senior vice president of the Center for European Policy Analysis, the Kremlin's recent aggression tests not only Ukraine's resolve but also that of the West. Unfortunately, the mixed responses from western states and institutions – Germany, the United States, NATO, the EU – show that they are divided and slow to react to Kremlin offensives.
By not regarding Ukraine as an ally, Lucas elicited, the West puts this victim of the Kremlin's aggression on the same page as its tormentor. Even as President Poroshenko called on NATO member states to send naval ships to the Azov Sea as a visible means of supporting Ukraine against aggression, Alliance members ultimately acknowledged no legitimacy for using military strength against the Kremlin. However, US President Donald Trump did cancel his planned meeting with Russian President Vladimir Putin at the upcoming G20 summit following the incident.
Meanwhile, a Russian court in Crimea sentenced the 24 detained Ukrainian naval officers to two months of arrest. This coming on the heels of questioning in which they "admitted" to "illegally entering Ukrainian territorial waters." Some have been transported to Moscow and placed in detention facilities, presumably in anticipation of upcoming show trials. If this scenario comes to fruition, the Kremlin will also be breaking humanitarian laws. In addition, show trials and forced "confessions" of guilt would mean that the Kremlin is in no way distancing itself from Stalinist tactics – ones known very well to the people of East-Central Europe – and therefore is failing to make concrete democratic reforms.
Perhaps the most pressing question in all of this is: what should be done? Lucas suggests a sound response entailing the friendly visit of NATO ships to Mariupol combined with bilateral military assistance to Ukraine; EU visits to Kyiv and Western bans on official and business visas for Russians. This would convey Western seriousness toward Ukraine and acts of Kremlin aggression against her. Polish Foreign Minister Czaputowicz deemed further economic sanctions against Russia by the West as a firm reaction to recent excesses.
Do you want to know more about this issue or explore further? Are you interested in funding PAC's advocacy efforts to increase sanctions on Russia?
Join the cause with PAC by clicking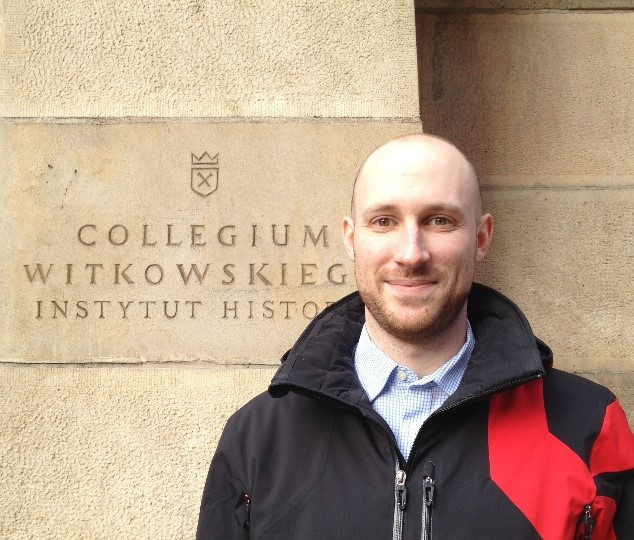 Paweł Markiewicz specializes in 20th century East-Central European history. He is a doctoral candidate at the Institute of History, Jagiellonian University in Cracow, Poland. He comments on historical and modern events in that region.