by PAC Public Policy Intern Patrycja Pajdak
On Wednesday, June 26th, 2019, representatives of the Polish American Congress attended the Fifth Annual Central and Eastern European Energy Security Conference at the Atlantic Council Headquarters in Washington, DC. The conference brought together esteemed panelists, moderators, and an intrigued public, for three panels on current Central and Eastern European energy policy issues including the transatlantic energy security nexus and the movement towards European energy independence.
Panel I: A Platform for US-Europe Cooperation on Energy Security
This first panel discussion was moderated by Emily Meredith, Deputy Bureau Chief at Energy Intelligence, and included remarks from Ambassador-at-Large for Energy Security in the Czech Republic, H.E. Václav Bartuška, Director of Energy Diplomacy for Europe, the Western Hemisphere, and Africa in the Bureau of Energy Resources for the US Department of State, Colin Cleary, Vice President of International Affairs at Tellurian Inc., Albert Nahas, Ambassador-at-Large for Energy Security at the Ministry of Foreign Affairs and Trade in Hungary, H.E. Pál Ságvári, as well as Poland's own Deputy Director of Oil and Gas for the Ministry of Energy, Paweł Pikus. 
Much of the conversation focused on the move toward diversification, as long term energy contracts with Russia are expiring in the upcoming years for these Central and East European, or CEE, countries.  The panel stressed that the goal of increasing transatlantic cooperation is not a plan to end cooperation with Russia for energy, rather the CEE countries simply look to diversify their energy supply, as they would not want to have any single supplier, even if it was the United States. Albert Nahas, represented the private sector in this conversation and made clear that the countries buying LNG could import their own assets if they just turned to the sector rather than simply relying on EU funding. He also stressed that if the United States does not export gas in the next 5 years, wells will have to be capped and oil prices will go up not only in the United States, but also in Europe. He felt optimistic about this US-Europe cooperation, seeing it as a win-win given the unlimited potential of the US in terms of gas. 
On the topic of their opposition to the 2050 net zero emissions target, the CEE representatives all reached a similar consensus that, though they understand the importance of this goal, they simply do not believe it is attainable.  Fossil fuels will certainly be fazed out of Europe, however, in the words of Ambassador H.E. Václav Bartuška, taking it a year at a time and going from there is the best way to go about it right now. Poland's Paweł Pikus shared that a priority of the country right now is attaining an optimal economy, new infrastructure, and greater benefits for society. Albert Nahas made sure to note, however, that renewable energy companies are LNG partners not competitors, thus one will not come at the cost of the other. 
Regarding Poland's specific move toward energy independence, Paweł Pikus shared plans for the Baltic Pipe with Norway, the expansion of the Świnoujście terminal, the plan to build another terminal in Gdańsk and the importance of interconnectors with Poland's neighbors, such as Lithuania. Pikus expressed hopes to provide a transatlantic energy corridor via Poland to achieve the best prices for the entire CEE market and the goal that Poland's infrastructure will be replaced by 2025 to better synchronize the Baltic states.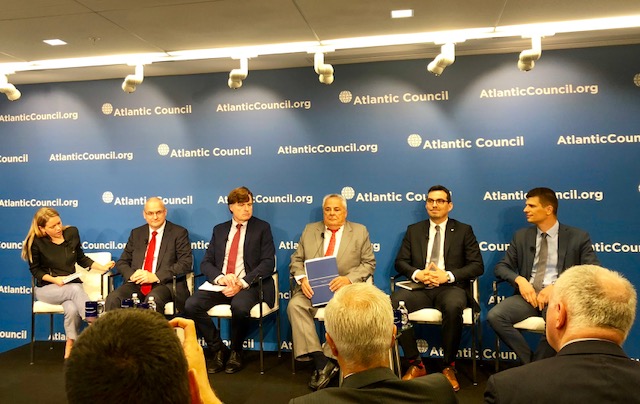 Panel II: Strengthening Transatlantic Energy Security through Innovation
This second panel, moderated by Olga Khakova, Associate Director for European Energy Security and the Global Energy Center at the Atlantic Council, included the Head of International Public Affairs and European Union Regulatory Affairs for MOL Group, András Bácsi-Nagy,  Fellow for Women Leaders in Energy and the Global Energy Center at the Atlantic Council, Lee Beck, Director of Innovations and International Cooperation at the Slovak Innovation and Energy Agency, Artur Bobovnický, and Managing Partner of Danubia NanoTech, Patrik Krizansky. The conversation focused on innovation as not just invention but also implementation that large companies can assist CEE countries with. A problem in many of these countries today is not technology but rather the simple fact that their economies are not supportive of this necessary innovation. Limited venture capital, low gross domestic expenditure on research and development, as well as lack of motivation for nations to stop using fossil fuels means there is a long path ahead to achieve viable technology and regionally attain emissions targets. Strategies that must be utilized include digitalization, changing consumer habits, and decarbonization, as laid out by András Bácsi-Nagy. To make this attainable, Artur Bobovnicky argued for companies to invest more into younger generations, to educate them on how to create out of the box solutions, while connecting them with local entrepreneurs to fulfill projects. More free venture capital is needed, however, less needs to be spent more efficiently.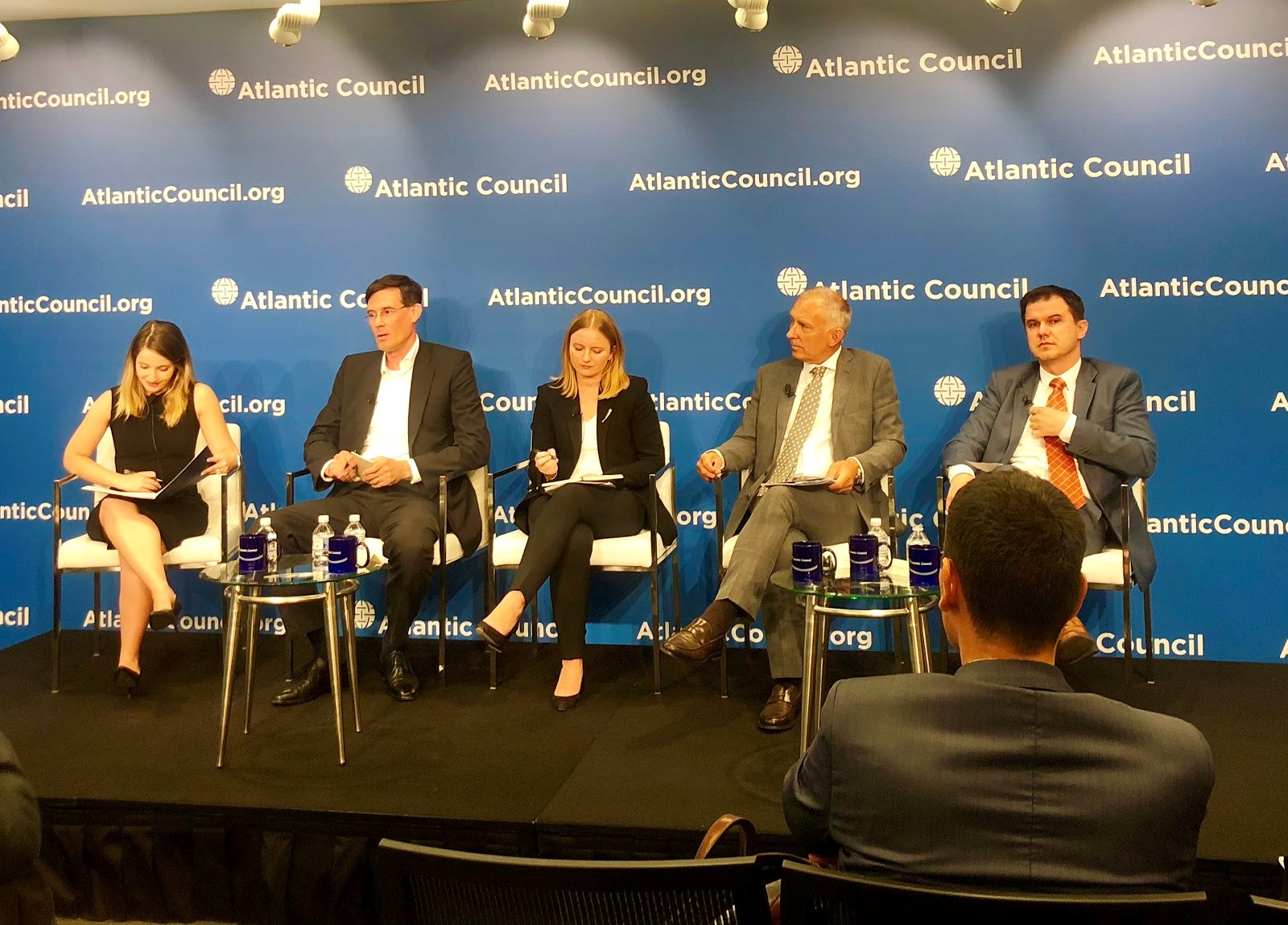 Panel III: A Path to Energy Independence in Central and Eastern Europe
This last panel, moderated by Senior Fellow of the Global Energy Center at Atlantic Council, Ambassador András Simonyi, included remarks and participation from Deputy Director-General for Energy for the European Commission, Klaus-Dieter Borchardt. Other participants were Managing Director of Croatia LNG, Barbara Dorić, Ambassador-at-Large for Energy Security of the Slovak Republic Ministry of Foreign Affairs, H.E. Juraj Siváček, and Senior Vice President for Policy, Government, and Public Affairs of Cheniere Energy, Inc., Christopher Smith.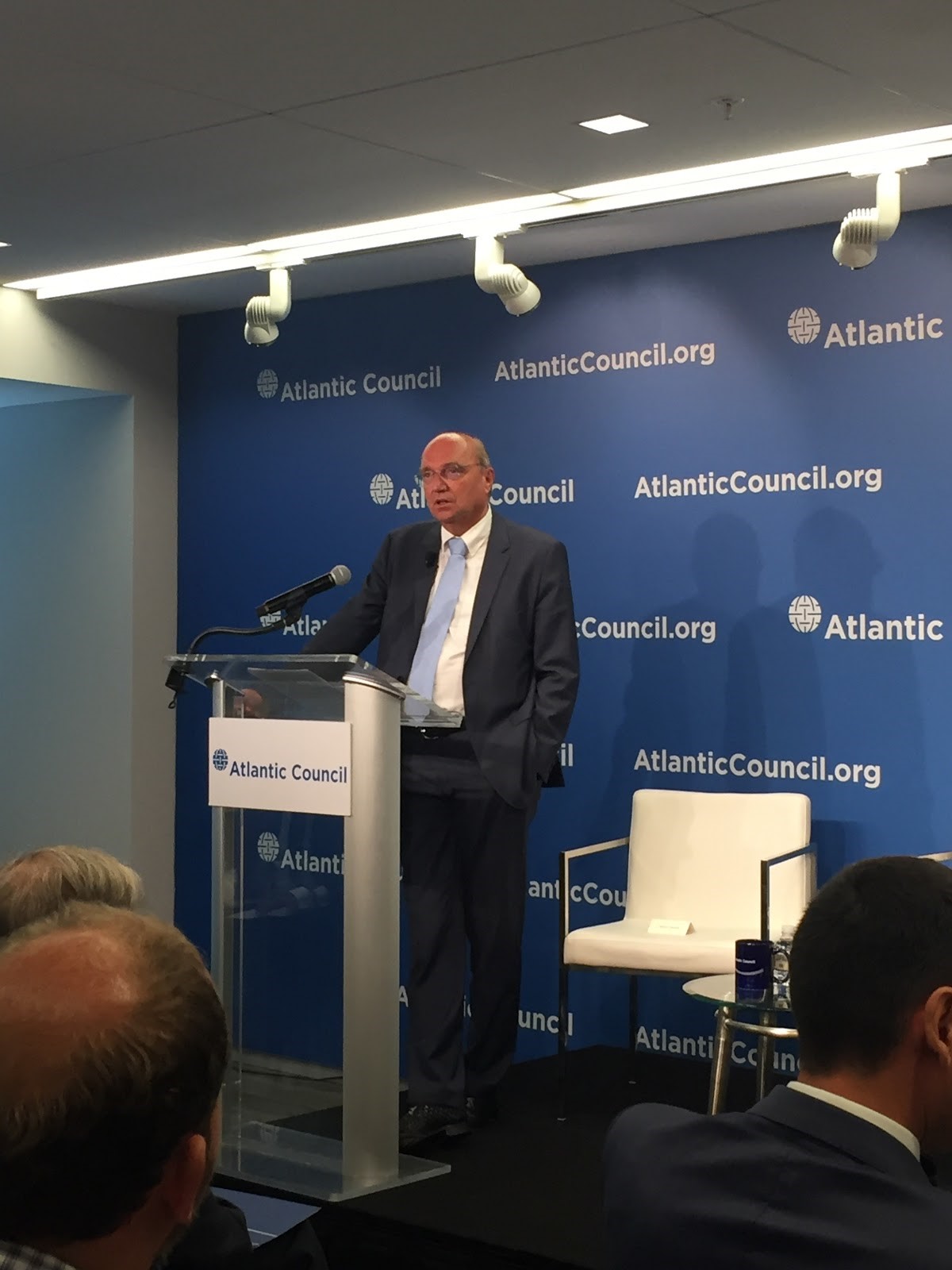 Klaus-Dieter Borchardt was able to outline many important and ongoing energy projects right now, such as the LNG terminal in Croatia that will be operational in 2021, the current Central Pipeline that is under construction, and the southern gas corridor in Greece & Italy that will be operational at the end of 2020, among many others. He made clear to the audience that the European Commission is looking to invest in less gas projects so that those with important and credible need, such as diversification, are focused on. Recent elections of the EU Parliament show that bigger changes may be more difficult to implement in the next 15 years, however, the "time of big pipelines is over", with the plans currently on the table being sufficient according to the Deputy Director-General. Christopher Smith remarked that Cheniere Energy, Inc. expects by 2020 to be the #2 provider of gas, proving the beneficial nature of the US-Europe energy cooperation. Central and East Europe is truly on a feasible path to energy independence. 
Do you want to explore this issue further? Would you like to support PAC's advocacy work in helping Central and Eastern Europe achieve energy independence? Please click
Your donation is vital to ensure the continuing role of the Polish American Congress as the voice of the Polish American community, and America's top advocacy organization for Poland.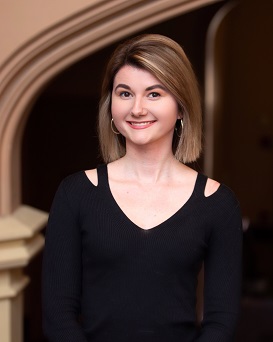 Patrycja Pajdak is a Public Policy Intern at the Polish American Congress this summer. She is a rising junior at Princeton University in the Woodrow Wilson School of Public & International Affairs with a policy focus on human rights and immigration.