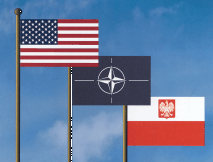 On Thursday, March 7, 2019 the Secretary General of NATO Jens Stoltenberg met with President Andrzej Duda at the start of official visit to mark the 20th anniversary of Poland's membership in the alliance.
The meeting between President Duda and NATO Secretary General Jens Stoltenberg touched on a number of issues including the Black Sea region and the violation by Russia of the INF Treaty on medium-ranged, land based nuclear missiles, as well as Syria and the Middle East.
Following the meeting with President Duda, NATO Secretary General Stoltenberg said, "we are extremely grateful for the contribution Poland makes every day to NATO."
Poland has become one of just a handful member states that reached NATO's unofficial target of spending 2 percent of GDP on defense.
Poland officially joined NATO on March 12, 1999.  This year the anniversary events will be under the title of "Poland's 20 years in NATO", and the celebrations will start at 11am on March 9 across the whole country. Events will be held at military bases. Poland's Defense Ministry announced that celebrations will include training and drill demonstrations, concerts and meetings with soldiers of the Polish Army and Allied forces. The official raising of the Polish and NATO flags is planned for 1pm and will be followed by the playing of national anthems.
Read more about the meeting of President Andrzej Duda with NATO Secretary General here: https://www.president.pl/en/news/art,993,were-meeting-our-nato-obligations.html .
PAC National Office