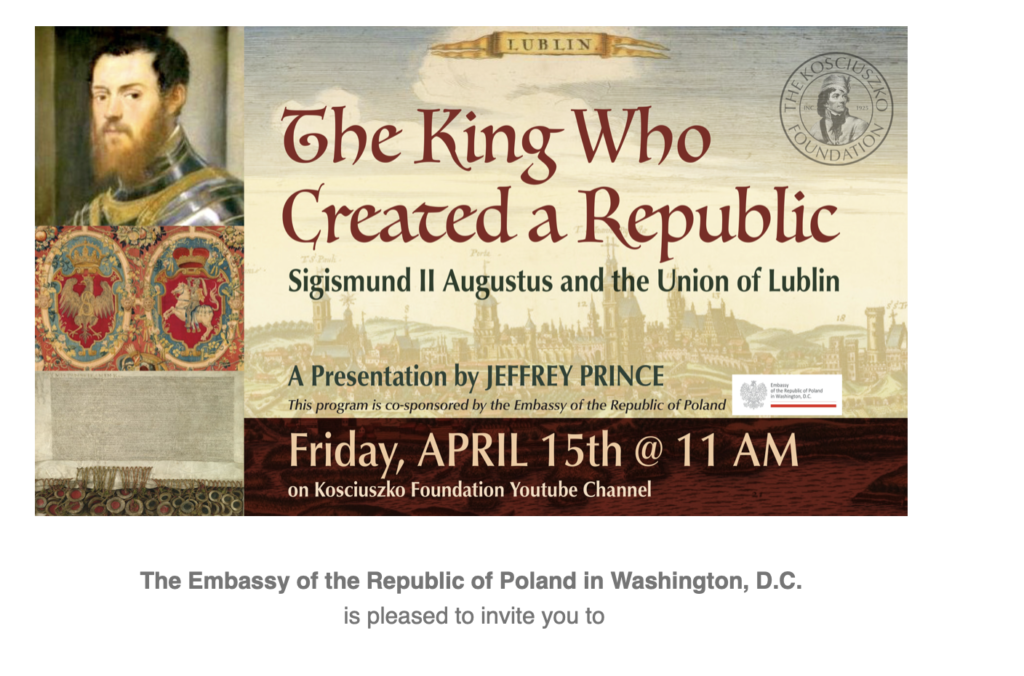 A historical presentation by Jeffrey R. Prince
Friday, April 15, 2022 │ 11:00 AM ET

***
The Kosciuszko Foundation's YouTube Channel
***
The program will explore the 1569 Union of Lublin and the creation of the Polish-Lithuanian Commonwealth – one of the largest countries in Europe at the time.
Sigismund II Augustus embodied the union of Poland and Lithuania, a military alliance powerful enough to fend off the encroachment of Russia on their territory. In 1562, when Ivan the Terrible demonstrated his intention to conquer the Ruthenian lands, including today's Belarus and Ukraine, the union was doomed to dissolve into chaos for lack of a male heir. Sigismund Augustus initiated a seven-year campaign to build a new union based on elected leaders and representatives instead of a hereditary monarch. Jeffrey R. Prince tells the story of the last Jagiellonian King's failure through three marriages to produce an heir and his extraordinary success in creating a new union strong enough to stave off the existential threat from Russia.
While earning his Ph.D. at the University of Virginia and then teaching for almost a decade at Northwestern University, Jeff Prince read widely in Renaissance literature and history. During his first visit to Kraków, he stumbled on the Cranach portrait miniatures of the last Jagiellonian kings and queens of Poland and Lithuania. Discomfited by his own ignorance—and that of most Americans—he delved deeply into the dynasty's two hundred year history at the Library of Congress near his home in Washington, D.C., and then travelled to the relevant sites in the two countries. When he learned enough to ask the right questions, he interviewed historians, biographers and curators in both countries who proved to be generous with their time and insights.
Eventually, Jeff focused on the most intriguing and touching episode in the dynastic saga, the relationship of Sigismund Augustus and Barbara Radziwiłł, and decided to present it to the American public in novel form. His book, In The Matter of the King's Marriage, recreates the King's youthful rebellion. Here, Jeff tells the tale of the mature King's somewhat subversive campaign to save the country he loved.